70 years of technological know-how
Our high technological competence is based on 70 years of experience. We do not buy this competence, but we have it inhouse. In the production of halogen lamps and conventional lamps we only use high-tech equipment and apply the latest procedures.
 So we are equipped with the knowledge of quartz glass and hard glass technology. We have an own coil production, glass processing department, and filling gas production where we produce halogen gases ourselves.
 In order to guarantee the best product quality, above all, in the field of quality management, we count on the latest technologies.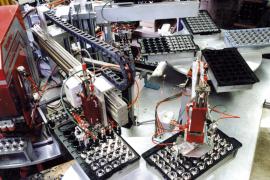 Lamps are tested by means of various methods, as for example, geometric light measurement, lifetime tests or, if requested, special tests. As a result of our high technological potential, we are in a good position on global market.
For example, we use contactless measurement technologies, as camera systems, for testing purposes during the whole production process.